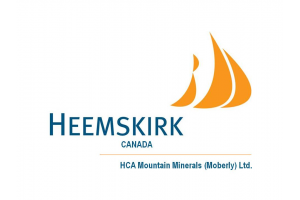 Heemskirk Canada
204, 1212 1 Street SE
T2G 2H8
Canada
Heemskirk Canada Limited is in the industrial minerals business, with operations in British Columbia and a head office in Calgary.
We are currently re-developing our Moberly, BC operation to be able to produce high quality domestic Frac sands, glass sands and other high purity silica sands to meet our customer's demands for consistent quality silica products.  
Producers of industrial mineral products for over 30 years, Heemskirk Canada's operations in Golden, British Columbia have an enviable reputation of providing high quality products to our customers on a consistent, reliable basis throughout Canada and the United States.
Moberly has its own rail siding off the Canadian Pacific East West main line and is located adjacent to the Trans-Canada highway near Golden, BC, providing customers with logistical flexiblity for delivery.
Heemskirk Canada Limited is a wholly-owned subsidiary of Heemskirk Consolidated Limited, an Australian company listed on the Australian stock exchange.