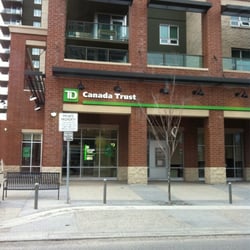 TD Canada Trust
105, 1410 1 Street SE
T2G 5T7
Canada
Headquartered in Toronto, Canada, with more than 80,000 employees in offices around the world, The Toronto-Dominion Bank and its subsidiaries are collectively known as TD Bank Group (TD).
TD had CDN$1.2 trillion in assets on October 31, 2016. TD also ranks among the world's leading online financial services firms, with approximately 11 million active online and mobile customers. The Toronto-Dominion Bank trades on the Toronto and New York stock exchanges under the symbol "TD".
The Toronto-Dominion Bank is a chartered bank subject to the provisions of the Bank Act (Canada). It was formed on February 1, 1955 through the amalgamation of The Bank of Toronto, chartered in 1855, and The Dominion Bank, chartered in 1869.
Hours of Operation
Monday - Saturday: 8:00am - 6:00pm
Sunday: Closed