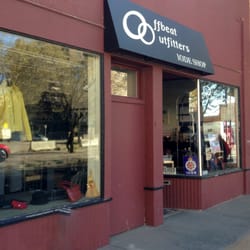 Offbeat Outfitters IODE Shop
1320 1 Street SW
T2R 0V7
Canada
Offbeat Outfitters IODE Shop has been in Calgary for almost 40 years and is located in the heart of Victoria Park's vibrant business district.
Offbeat Outfitters is a small, entirely volunteer-run thrift store nestled between historic apartment buildings, modern condo high-rises, eclectic stores, restaurants, lounges, and cafes - curating amazing goods at even better prices!  We carry a selection of vintage, modern, and thrifty finds. From mens & ladies wear, shoes, purses, jewelry and housewares, you will find unique treasures at Offbeat every time!
Offbeat Outfitters operates solely on donations and is a registered charity. Additionally, 100% of our profits go directly back into our community - we proudly support over 40 local Calgary charities, schools and programs to help those in need. 
IODE Canada is a national women's charitable organization dedicated to enhancing the quality of life for individuals through education support, community service, and citizenship programs.   
Hours of Operation
Wednesday - Thursday: 11:00am - 7:00pm
Friday - Saturday: 11:00 - 3:30pm
Sunday - Tuesday: Closed