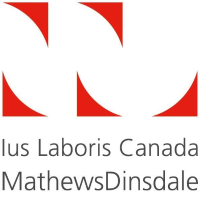 Mathews Dinsdale & Clark LLP
250, 305 10 Avenue SE
T2G 0W2
Canada
The way people work has changed dramatically over the past 60 years. Globalization, technological innovations and human rights issues have all impacted the working environment, bringing unprecedented challenges to employers.
Matthews Dinsdale meets these challenges. For over half a century, our firm has represented employers in all areas of human resources law. We have championed many of the cases that have helped shape and redefine the landscape of Canadian workplace law. We enjoy a reputation as one of Canada's preeminent workplace law firms, with many of our lawyers regarded as the leading and most respected legal practitioners in their fields.
Mathews Dinsdale is the only coast to coast labour and employment law firm in Canada, with offices in British Columbia, Alberta, Ontario and Nova Scotia. We offer a wide range of practical experience and legal expertise to meet the needs of a variety of private and public sector employers. Our private sector clients extend from small independent businesses to large multi-national corporations in all sectors of the economy including manufacturing, retail, construction and information technology. A significant portion of our practice also involves advising public sector employers, including municipalities, hospitals, emergency medical services and not-for-profit organizations.
Our lawyers regularly appear on behalf of employers before various provincial Labour Relations Boards and Human Rights Tribunals the Canada Industrial Relations Board, arbitrators, the Workplace Safety & Insurance Board, and various other federal and provincial boards and tribunals. We also represent employers before all levels of courts in wrongful dismissal actions, occupational health and safety matters, judicial reviews of decisions made by administrative tribunals and to obtain injunctive relief.
In addition to our advocacy services, we advise employers in matters such as collective bargaining, creating compliant human resources policies and avoiding the adverse labour relations and employment law consequences associated with the purchase, sale or restructuring of a business.
In 2015 Mathews Dinsdale became the Canadian member of Ius Laboris, the world's largest alliance of labour and employment law firms. With more HR lawyers ranked globally than any other legal services organization, Ius Laboris offers exceptional HR legal services to corporate counsel and HR professionals.  With the addition of this alliance Mathews Dinsdale has positioned itself to assist employers with their local, national and international workplace law needs.
Above all, we understand that workplace law has a very human element, involving complex and multi-layered relationships between people and the workplace. Having navigated the terrain for over 60 years, we can help lay out the right paths and avoid the pitfalls while speaking a workplace language that everyone understands.