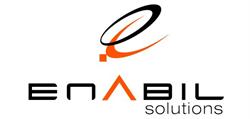 ENABIL Solutions
500, 438 11 Avenue SE
T2G 0Y4
Canada
As an organization, ENABIL has more than 20 years of experience serving the Customer and Revenue Management (CRM) needs of a growing roster of industry-leading Communication Service Providers.
As a leader in the Customer and Revenue Management market, ENABIL currently processes in excess of 8 billion billing transactions on behalf of its customers. Long term strategic relationships and exceptional customer satisfaction speak to the fact that all ENABIL customers can serve as references. 
ENABIL is a privately held technology and professional services organization with headquarters in Calgary, Alberta, Canada.  With a team of more than 160 professionals working from offices in Calgary, Vancouver, and Bangalore India, ENABIL has an enterprise value in excess of $150 Million and is profitable and debt free. 
Best-in-Class Solution
As telecommunications service providers embark upon a Business Support Solution (BSS) selection process, it is imperative that they select a partner who is committed to the communications industry and is investing in their software. This partner must also be financially stable and present over the long term to support their evolving business needs. ENABIL and our partners are extremely strong corporate entities and are the companies that carriers should select. With strong financial backing and an extensive community of customers, ENABIL will continue to be a leader of Customer and Revenue Management (CRM) solutions offered as a cloud based managed service.  
Proven Success
ENABIL's strength is in Cloud-Based Managed Services with a major focus on Customer and Revenue Management solutions.  Entrusted to provide mission critical services, ENABIL has earned a reputation by delivering flexible, innovative, business-driven solutions that build lasting partnerships. ENABIL customers know the benefits of service and the flexibility of a business partnership tailored to the needs of their business.
ENABIL: the Right Size & Fit
You can be confident in dealing with an established company with a 25 year history of proven success in providing cloud-based managed customer information systems. Our customers have noted the ease of doing business with ENABIL. ENABIL is large enough to make the necessary investments in your projects to ensure its success, but with agility beyond other less nimble competitors. ENABIL is the right size to provide greater responsiveness.