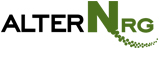 Alter NRG
#460, 227 11 Avenue SW
T2R 1R9
Canada
Alter NRG Plasma Gasification Solution is able to transform all types of waste – from household waste to hazardous waste – and convert it into many different types of useful, renewable energy such as electricity, replacing higher cost fuel oil or liquefied natural gas, or even create diesel fuel or ethanol. THAT is how we create LIFE WITHOUT LANDFILLS.
Alter NRG provides alternative energy solutions that utilizes its Westinghouse Plasma (WPC) Torch systems. Alter NRG is the industry leader with a significant commercial history of plants that turn household waste into clean energy operating since 2002. New scaled up facilities, constructed by a Fortune 500 Company, will process approximately 1000 tonnes per day. This is the size and scale that is able to completely replace an average landfill site. In addition, current hazardous waste destruction facilities are able to process more than 500 hazardous waste streams.
Simply put, Alter NRG Plasma Gasification Solution has better environmental performance as well as having strong project economics due to the higher efficiency.  Alter NRG has a unique vision, a strong team, leading plasma gasification solution, capable strategic partners and financial strength – we are well positioned for the opportunities ahead.