Patio Sessions in Vic Park
July 7, 2017, Posted by
megan
Looking to enjoy some patio time this Stampede week, and even throughout the summer? Victoria Park is home to some of Calgary's best patios – including several tucked away in places you may have walked by thousands of times, without even knowing about them. So, we compiled a list of Vic Park's best and hidden patios.
The BackLot – Tucked in between 1st Street SW and The Hifi Club on 10th Avenue, The BackLot has a friendly and welcoming atmosphere for people of all walks of life. With both affordable food and beverages, this is a place for anyone and everyone. As a regular host of drag shows and other special events, there is plenty of excitement on-stage on a weekly basis. Hidden at the back of this bar is a cozy patio that many Calgarians might not be aware of. Its casual backyard feel will make you want to gather your friends and head down to enjoy good times while catching some rays.
Brigg's Kitchen & Bar – Delicious food, amazing cocktails and affordable prices. Brigg's offers a diverse menu, with a rustic and modern interior. Located on the corner of 10th Avenue and 3rd Street SE, this restaurant is a neighbour to many sought-after bars and nightclubs. It is the perfect spot to begin a night out. With an intimate patio covered in trees and plants, Brigg's is a great spot to take a client to lunch, to meet with friends and even to dine with family.
Embarcadero Wine & Oyster Bar – Right at the bottom of 17th Avenue is Embarcadero. Named after the waterfront district in San Francisco, Embarcadero means "wharf" or "landing place" in Spanish. Located within a historic red brick house, with architectural details similar to a European-style wine bar, this restaurant features a Gallery dining room with original artwork on the second floor. Embarcadero has a diverse selection of wines, as well as the largest selection of oysters in the city. Their south-facing brick-paved patio is a perfect spot for the summertime.
Mill St. Brewpub – With their newest brewpub location in Calgary, Mill. St. Brewpub has an elaborate selection of craft beers and great food. With two separate patios at the Calgary location, there is plenty of room for all who wish to enjoy a pint. Located on 17th Avenue, just a short walk from the Victoria Park LRT Station, Mill St. also offers brewery tours, has an excellent happy hour, and reverse a happy hour with both drink and food specials. With two patios, one wrapped around the front of the building, and the other in the backyard, there is plenty of seating available. Come have a break from the crowds and refuel before heading back to the grounds this week!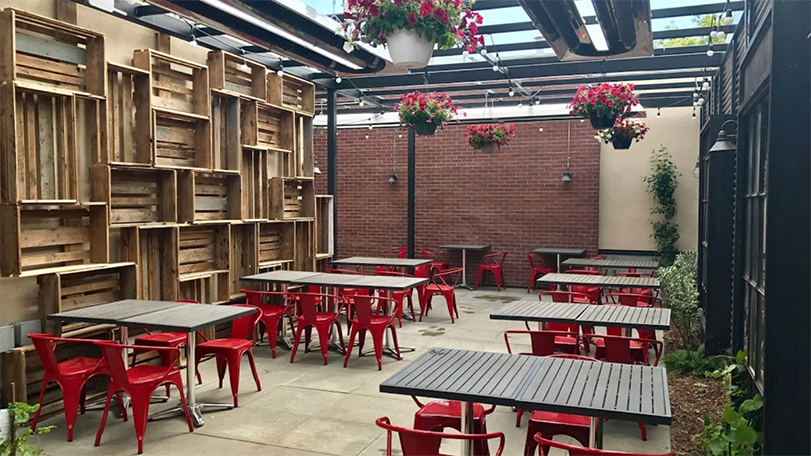 Naina's Kitchen – Naina's Kitchen is not only a family-run business, it is a family atmosphere which welcomes employees and customers alike. With a focus on creating amazing comfort food, this restaurant features classic grandma's favorites – but with a twist. Their famous stuffed burgers have been described as "the best burgers in Calgary," and "lunch time heaven." With a comfy patio overlooking 17th Avenue, Naina's offers a little escape, while still remaining among the energetic downtown ambience.
Raw Bar – A Vietmodern fusion style restaurant with award-winning cocktails, Raw Bar has been named one of Calgary's top 10 restaurants by Avenue Magazine. Located within the Hotel Arts and described as "a little taste of Vegas," the Raw Bar poolside lounge is truly the perfect spot for a "staycation." Featuring live DJs on the weekend, this pool is one of Calgary's most lively day time spots for both locals and tourists. Not staying at the Hotel Arts? No problem – you can pay a $5 entry fee to use the pool and enjoy the Raw Bar patio whether you are a guest or not.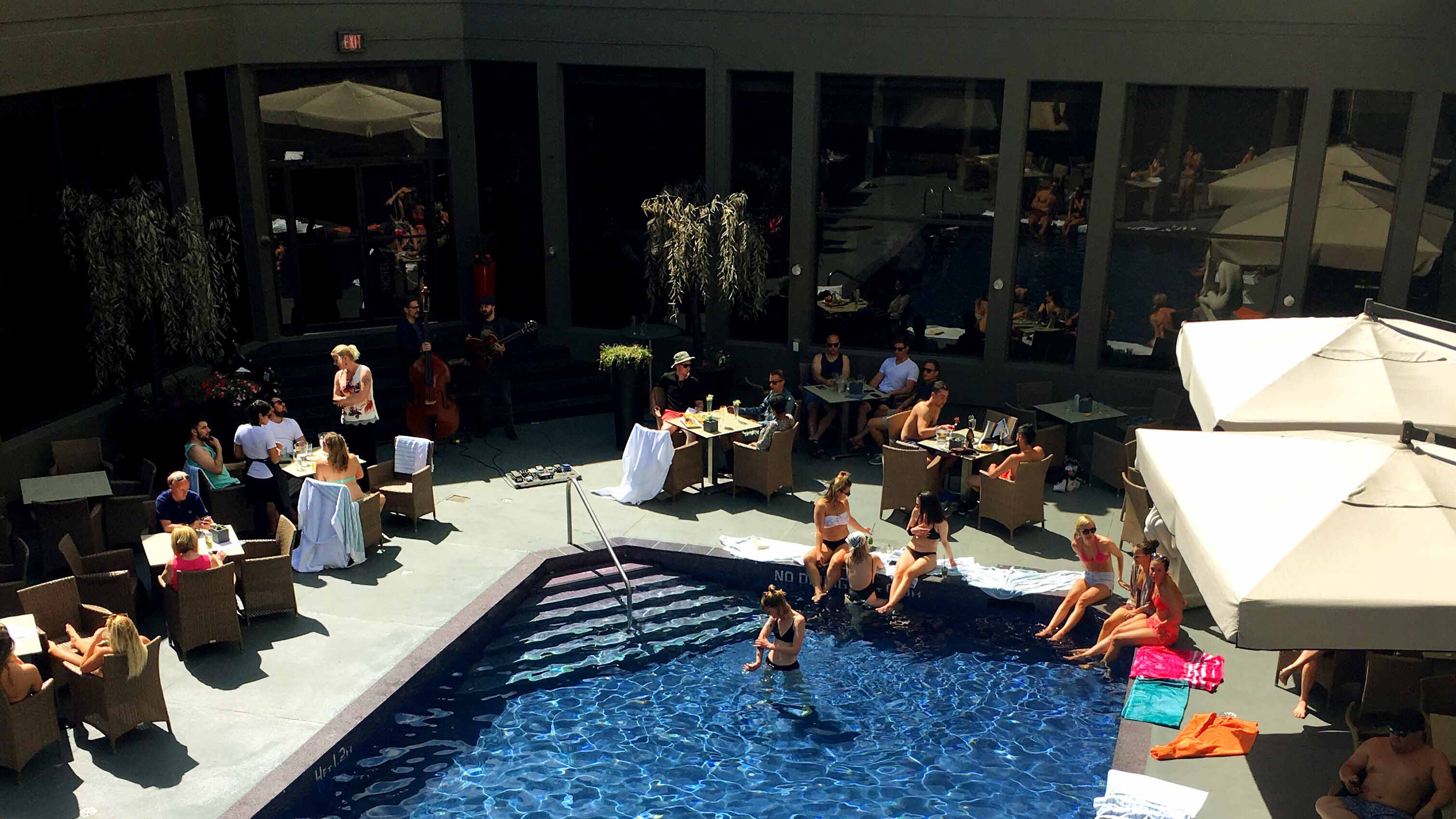 Sunterra Market – Within the Keynote building on the corner of 12th Avenue and Macleod Trail South is a market, café and deli blend that meets all of your needs. With high quality ingredients both in the grocery store and kitchen, Sunterra puts excellent food on both your table and theirs. On the upstairs level of Sunterra is a hidden rooftop patio whose landscaping and comfortable seating are especially popular over the lunch hour. With Sunterra's fresh salad bar, ready-to-eat dinners and a bakery, you can satisfy all of your craving at this patio.
Tropical Escape Restaurant– Formerly Ed's Restaurant, Tropical Escape is a new hot spot for Caribbean dishes and tropical cocktails. Right at the tip of 17th Avenue and just a few steps from the Victoria Park Stampede LRT Station, this is a go-to spot for some off-site Stampede week refueling. You can't beat the taste of the tropics on their unique backyard-style patio.
Vagabond – Vagabond aims to please those from all demographics. From fully stacked burgers and fresh salads, to creamy pastas and even gluten free pizzas, there is something to keep everyone happy, no matter how complex a groups' preferences and dietary needs are.  Located just a few steps away from the Cowboys Casino (and the Stampede Grounds themselves), there is never a dull moment on the Vagabond's sidewalk patio. Additionally, Vagabond is part of the "Music Mile" and will feature live music every night during Stampede this year.