PARM - Making the Perfect Pizza
August 3, 2017, Posted by
megan
How do you make a killer pizza? We asked Chard Ares, PARM's operations manager, and he invited us down to give it a try! He and his kitchen staff gave us a hands-on tutorial on creating the perfect pizza – PARM style. Although it's pretty tough to create a masterpiece that is up to par with their in-house pizzas (mostly due to their ridiculously awesome forno oven), we were able to take away some must-know tips and tricks to creating a seriously delicious pizza.  
PARM (1207 1 St SW), a new addition to Victoria Park's lengthy list of incredible dining spots, is a concept that was borrowed from New York. Not only is it an authentic Italian kitchen, but also a market, an event space and a deli with fresh grab-and-go sandwiches and salads. Barrie Flett, PARM's chef, has put a ton of heart and soul into the restaurant's menu. Many of the dishes featured on the menu were inspired by family recipes – ensuring that each dish is carefully thought-out and made with love. With an extensive dine-in menu that includes pastas, salads, pizzas and an elaborate wine selection, you can't go wrong. 
Chard taught us the key elements to creating a perfect pizza: 
First – ingredients are critical. We learned about "00" flour, a high-grade white flour, used by Neapolitan pizzaiolos (aka pizza experts) to create masterpieces. PARM uses this type of flour in its dough, which ferments for three days before being used. This particular type of flour creates a strong dough, with plenty of elasticity – resulting in a crispy and crunchy crust, rather than a soft, chewy one.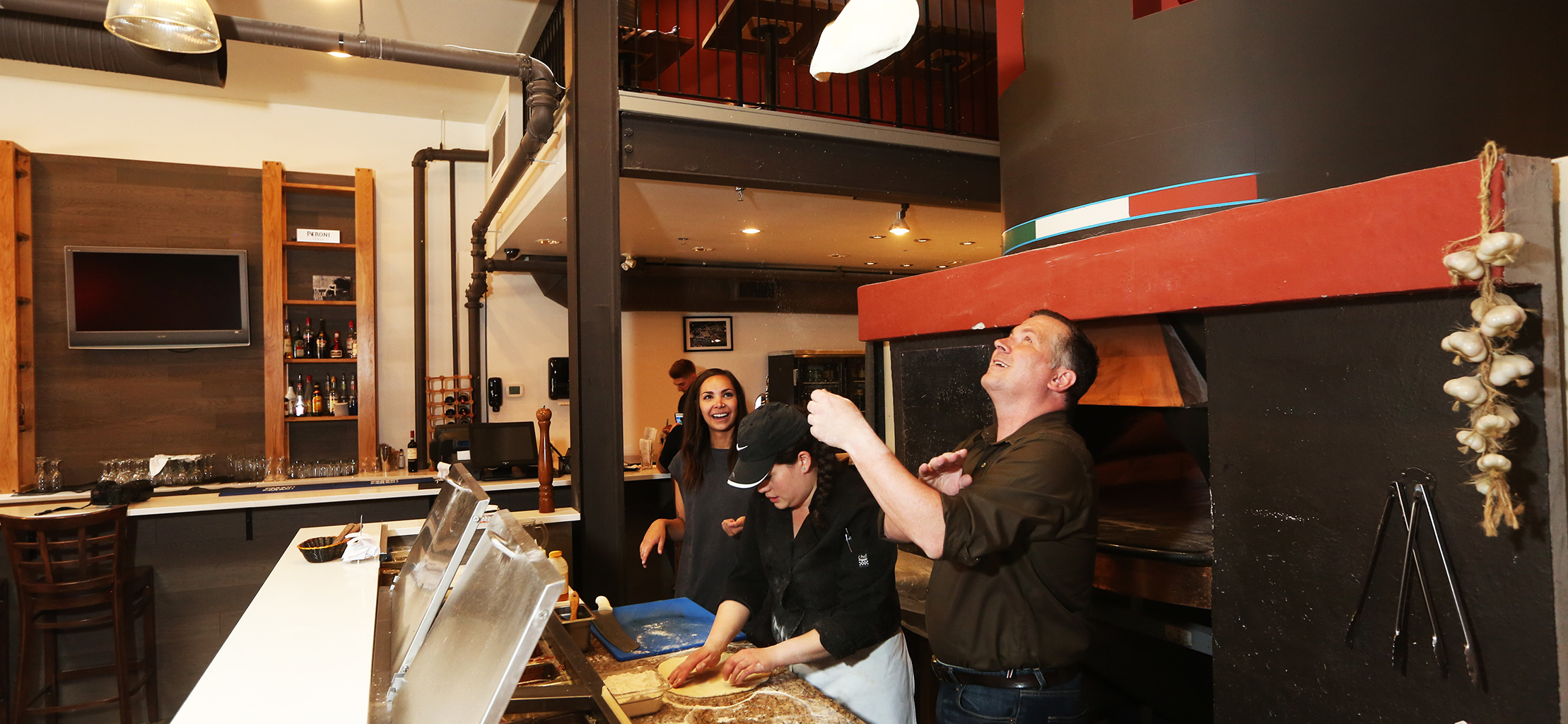 Next – at PARM, rolling pins are not used in their pizza making process. Say what? Yep, you heard right. To prepare the dough, the key is to work it into the perfect shape using just your hands. How is this done you ask? To start, ensure your surface is generously sprinkled with flour. Then, place your dough on the surface and give it a few big slaps – big, open palm smacks. This is done until the dough takes a flattened, round shape. Then, lift the dough off of the surface - and using your index finger and your thumb, pinch the dough around the entire edge. Allow for the middle section to stretch a bit, while being careful that is does not become so thin that it will rip. After this, place both of your fists underneath the dough in the centre, stretching it in all directions. Be careful to be gentle, as a ripped dough is a ruined dough! Once this is complete, place the dough back onto your surface. The next step is to push the dough toward the edges with your fingers, making the outer edge thicker than the centre. Place one hand in the centre, to ensure the dough does not move. Once this is complete, you are ready for your toppings!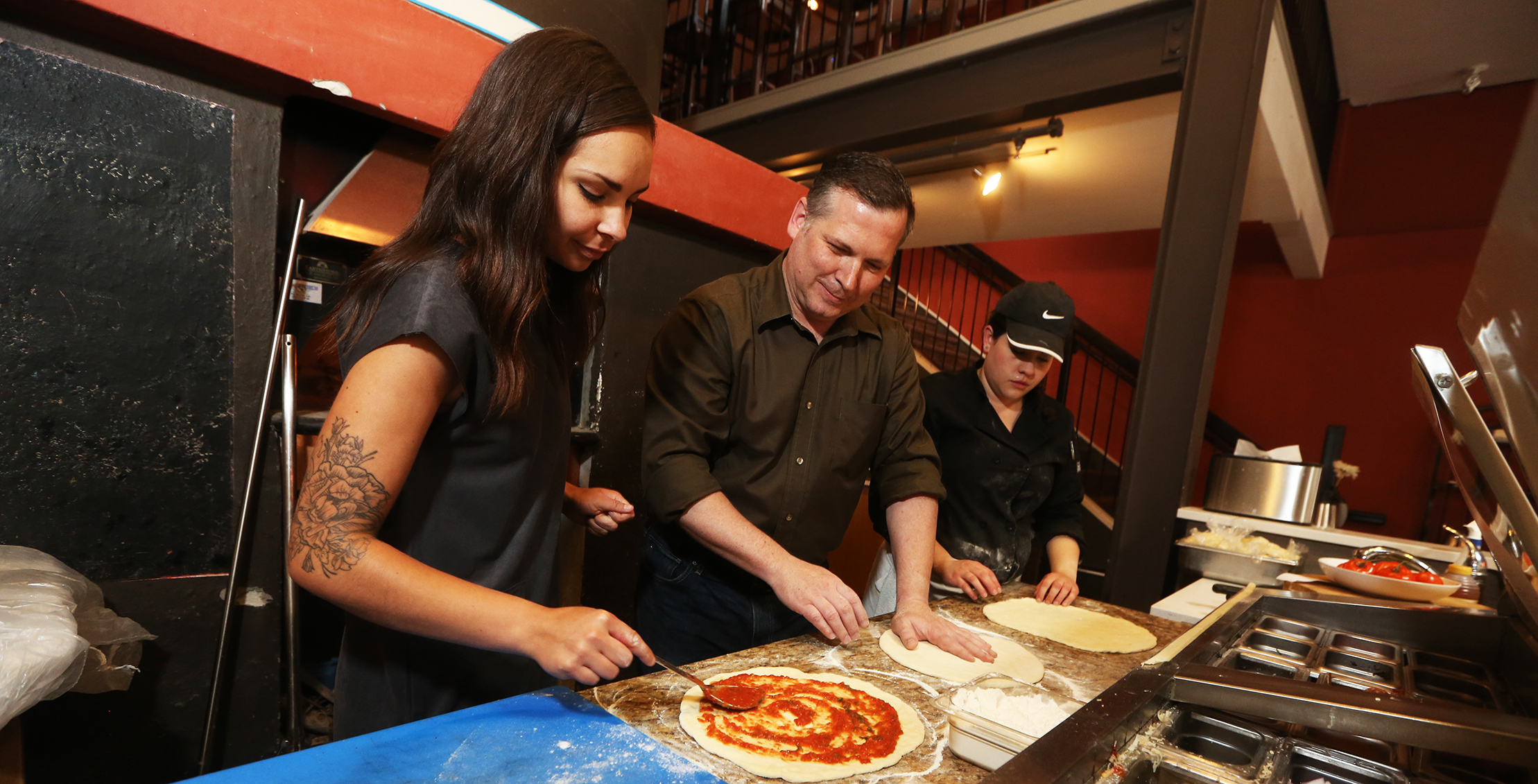 *Side note:  Tomato choice is essential to creating the perfect pizza sauce - Chard noted that pizza experts use exclusively San Marzano tomatoes to create the perfect sauce. He mentioned that some chefs are so specific about this, that they will not even allow any other tomatoes in their kitchens at all. Canned San Marzano tomatoes can be purchased in PARM's market and are used in many of the best pizza joints world-wide, including PARM's. 
Finally – top your pizza with your desired ingredients, being sure to finish the crust with a brush of some good quality olive oil. Whether its prosciutto, salami, or just veggies, be sure to make an even spread.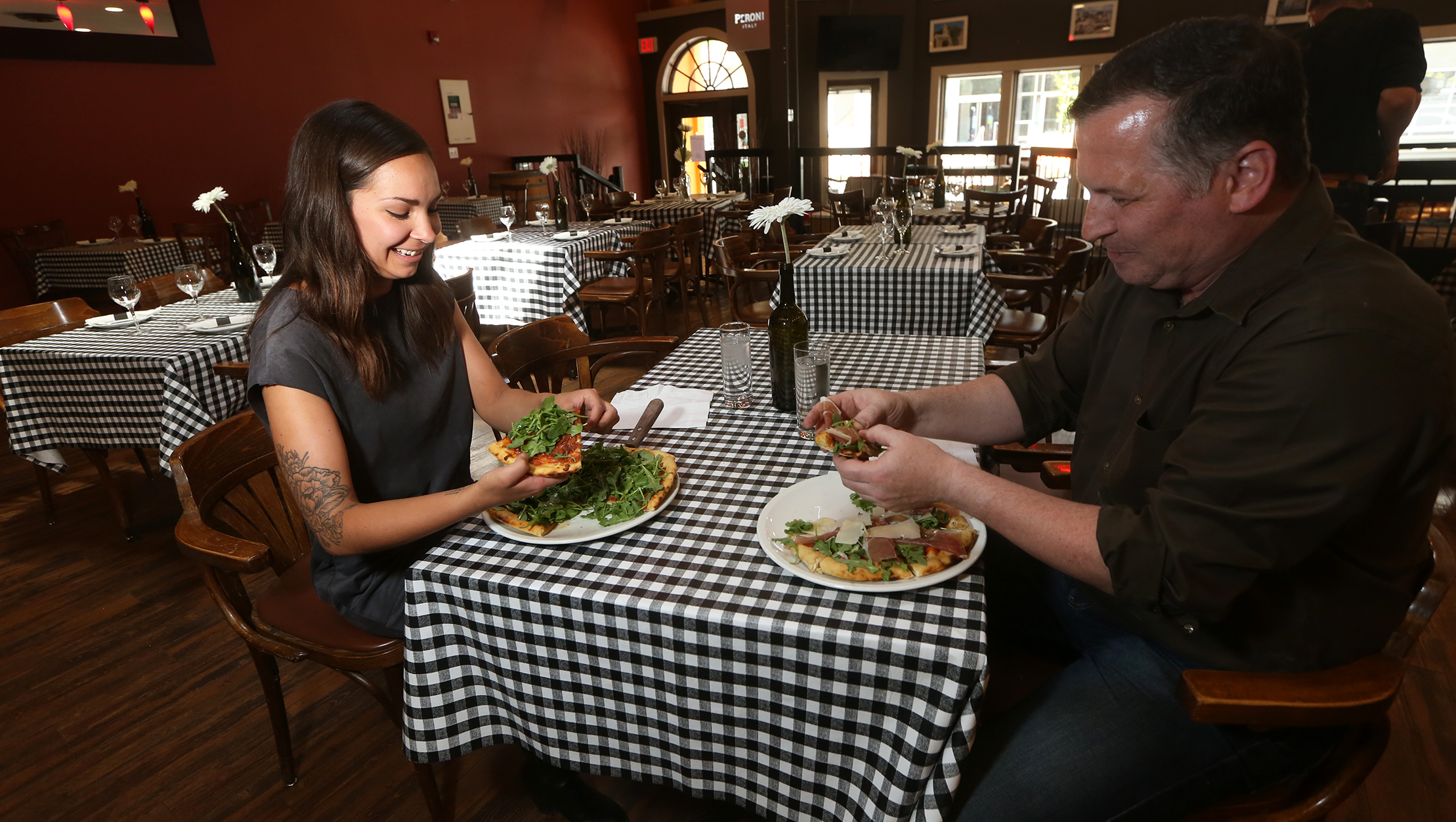 Now, there are many methods to cooking a pizza – unfortunately, the best way is with a forno oven, which generally do not exist in peoples' homes. For this effect, you'll have to come down to PARM. However; this does not mean you are entirely out of luck. Chard recommends using a barbeque and a pizza stone to come as close as possible to the forno effect. Don't have a pizza stone? No worries – using an oven can work too. Let your pizza cook until the edges are golden and the cheese is browning. Finally, top your pizza with any desired fresh ingredients (such as arugula or chili oil), slice and enjoy! 
At PARM, the famous forno oven can reach temperatures of around 1000°F. Only the best Applewood chips from the Okanagan are used within the oven, which adds an amazing flavour to the pizzas. Chard mentioned that traditional Neapolitan Pizzaiolos endure several years of training before they are even allowed to try using the forno oven – sometimes this process can be up to eight years.  
Chard and his business partner chose to open PARM in Vic Park, as they believe that it is an underutilized area with a ton of opportunity. Its neighbourly and community feel attracted them to the community. He describes the area as "a place where everyone looks out for one another." He mentions that he tries to do most his shopping and spending within the community – much like many others in the area. His thoughts are that "if one of us succeeds, we all succeed," and mentions that he has become good friends with the staff at many of his neighbouring businesses. The future of Vic Park, in Chard's opinion, will be one in which locals and tourists gather to enjoy.   
Next time you need to crush a pizza craving, drop-in to PARM, or give it a go yourself! But don't forget these tips and tricks for making the perfect pizza.