Outlash Beauty Boutique: The full treatment
March 6, 2018, Posted by
Kelly
Outlash Beauty Boutique opened its first location in Inglewood in July 2016. This was a natural step for owner Jessica Lapuz, who has been lashing since 2012. The boutique's quick growth allowed her to open its Victoria Park location in December 2017 – less than a year and a half later. As soon as Jessica walked into their new Victoria Park location, she knew she found the next home for Outlash. She loves that, "Victoria Park has such a variety of businesses, from some of Calgary's busiest restaurants, to fitness hubs."
From waxing and micro-blading to lashes and nails, Outlash Beauty Boutique truly is a one-stop-shop for all of your beauty needs. Luckily, the Victoria Park staff were invited to spend a day at Outlash to experience what this chic boutique has to offer.
When we walked into the boutique we were greeted with smiling faces, and we could immediately tell that the ladies of Outlash were fun, friendly and professional. After completing the necessary paperwork, we were introduced to Kate. Who would be our first technician of the day, taking care of the manicure, pedicure and facial.
After our introductions, Kate began the Express Manicure - perfect for those short on time. It includes a nail shape, cuticle push, lotion and gel polish application. Kate guided our selection of nail shape and colour and checked to ensure that the service was going well. Her attention to detail didn't go unnoticed when noticed the original colour chosen appeared differently than the swatch. She was also able to quickly offer an alternative colour that was a closer match.
Next, we moved on to the Express Pedicure. This service includes a soak, nail shape, cuticle push, callus removal, lotion and gel polish application. Of course, Kate continued to guide our selection of nail shape and colour, and check-in to ensure that everything was going well – ministering to the overall experience.
Outlash has a beautiful pedicure station, which is worth the trip alone! Sitting in a comfortable chair on a pedestal, you can observe everything happening in the boutique. We were able to work off our laptop while enjoying the pedicure, which wasn't a terrible way to work!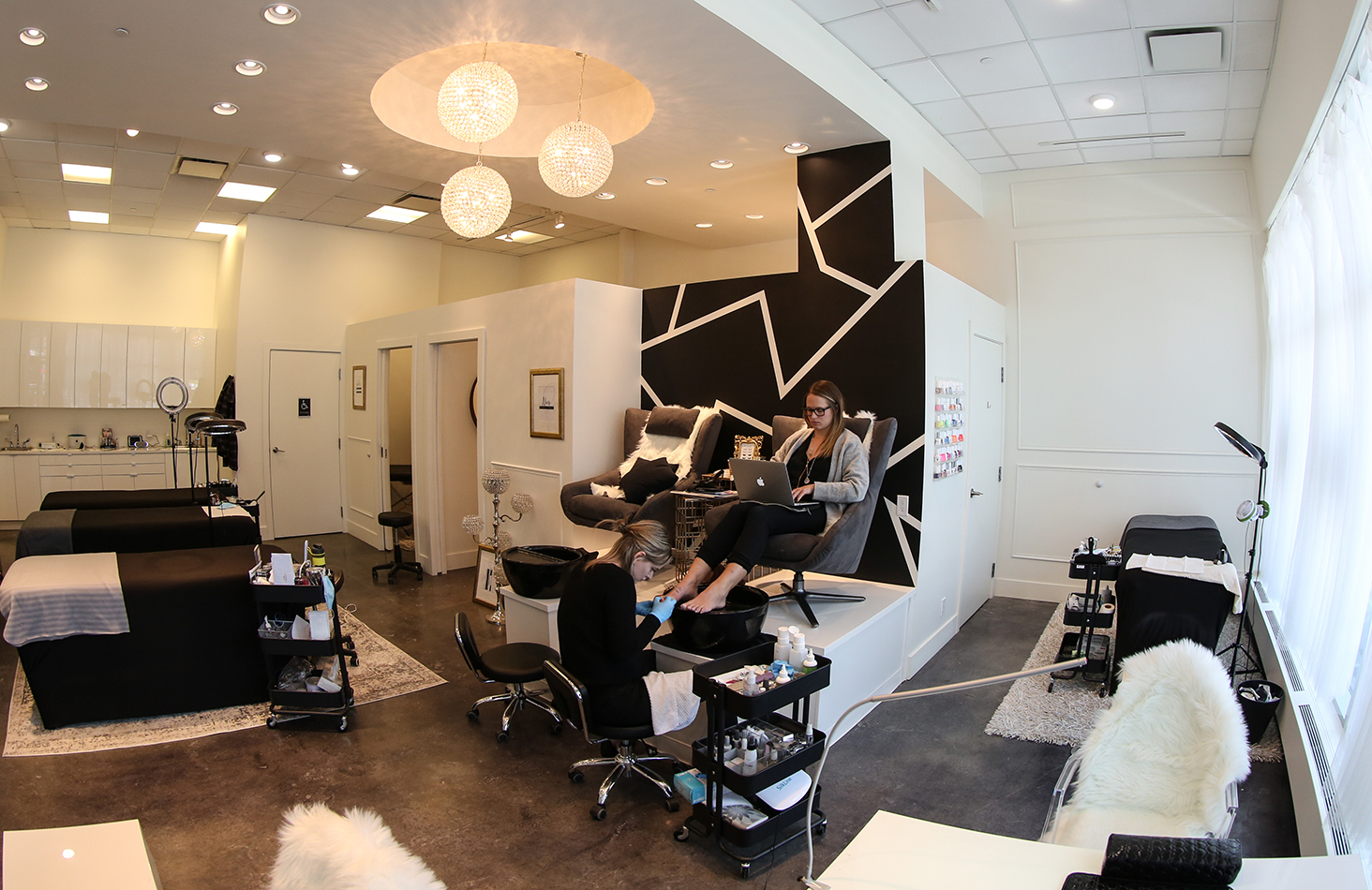 After the pedicure, we were brought into a quiet room for the Recharge Facial. This 45-minute facial includes all the basics – extractions, steam, massage, cleanse, tone. To get started, Kate asked a few questions about skin type and introduced us to the boutique's skincare line. After a skin type examination, she immediately concluded that it was dehydrated – a consequence of Calgary's dry weather. Kate cleansed, toned, moisturized, steamed, exfoliated, extracted, and massaged, and it was incredible. The entire process was completely rejuvenating.
After the facial with Kate, we met a new technician for lash extensions. Sara began by explaining the different styles and types of lashes - natural or glamourous, long, short, thick or thin, and helped narrow down the choices.  
Laying there with your eyes closed, you aren't quite sure what to expect or what's going on around you. Many don't actually get to see the precision needed to create perfect lashes. Thanks to our photographer, we were able to capture the details of this process. Sara glued three lash extensions together to create a fan before attaching the extension to one natural lash – all while carrying on a conversation.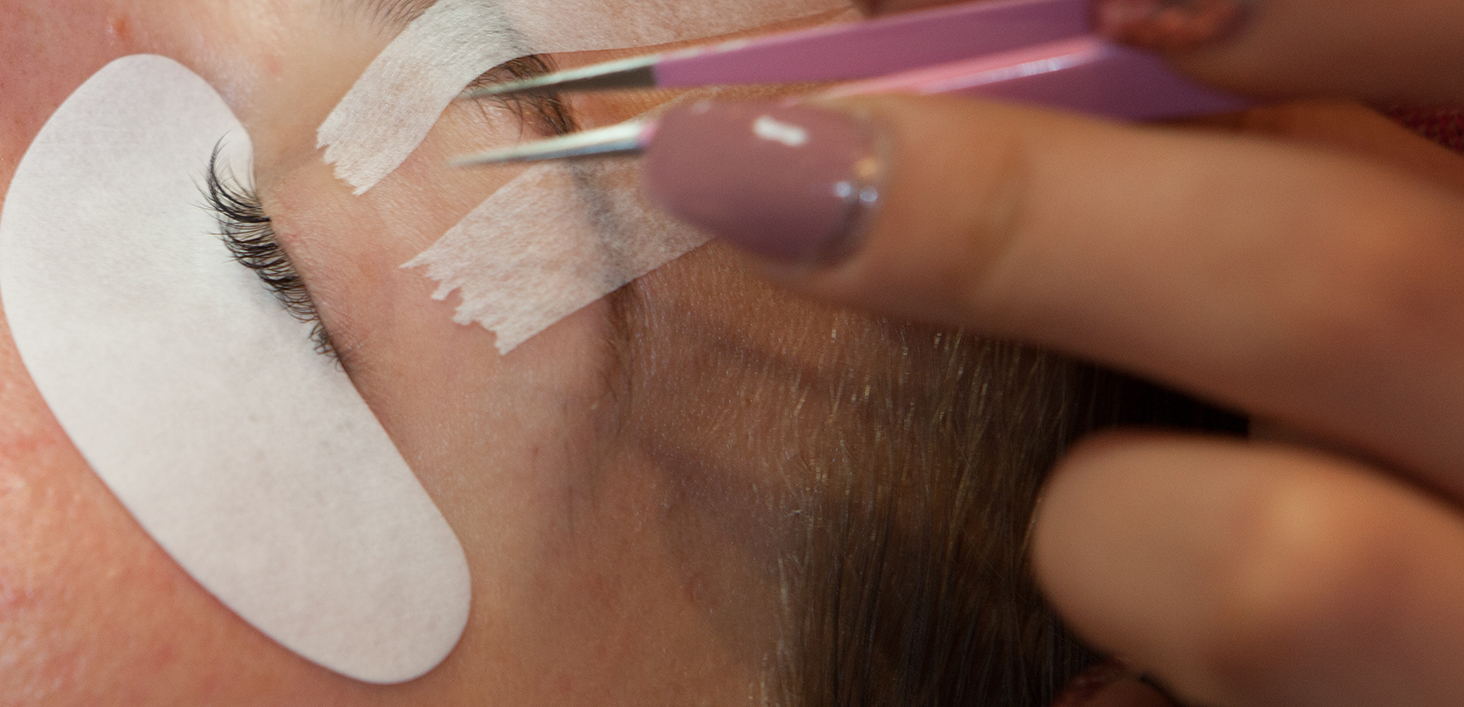 After about 90 minutes, it was time for the final reveal. Sara's handiwork didn't disappoint! Who doesn't want longer and fuller lashes? Despite a bit of redness from the facial, we looked ready for a night on the town. Lash extensions are perfect for those looking to simplify their beauty routine, or for anyone who might struggle with mascara application.
Before saying our goodbyes, Sara briefed us on aftercare, which plays a critical part in lash longevity. Outlash has LashWash, which is a cleanser specifically formulated to clean lash extensions. It is important to use cleansers, makeup removers and moisturizers free of oil or solvents on the extensions, as the bonding agent used to adhere your lashes will be compromised.
The experience at Outlash was top-notch, and the boutique has an atmosphere unlike any other – lively, energetic and fun! Jessica's team is extremely friendly and personable, and make you feel a part of their family the second you walk through the door. If you're looking to treat yourself, a friend, mom or loved, Outlash is worth checking out. For a full list of their services, click here.