More Patio Sessions in Vic Park
July 13, 2017, Posted by
megan
Last week we shared some of Victoria Park's best and hidden patios with you. This week, we bring you more. Summertime passes us in almost the blink of an eye, so be sure to fit in enough patio time to get that vitamin B – before it's too late!
The Beltliner – You can find The Beltliner on the corner of 12th Avenue and 2nd Street SW. Named for the old street car that once ran down 12th ave, this modern diner offers fresh, innovative and playful takes on diner fare in a fun and approachable setting. Stopping in on the weekend? You can create-your-own over-the-top caesar. Pick your poison of either vodka or gin and then choose your garnishes, such as perogies, chocolate cake or a shrimp skewer. Those lucky enough to snag a spot on their patio, will enjoy views of the beautiful Central Memorial Park and Memorial Park Library.
Bottlescrew Bill's – Situated on 10th Avenue and 1st Street SE, is a 37-year-old pub, with a ton of character. As home of the original "Around the World in 80 Beers Passport," Bottlescrew Bill's has the largest beer selection in the city. With excellent food, a great atmosphere and literally hundreds of beers from all over the globe, there is something new to try every time you visit. Wrapped around the pub, is a cozy patio that many pass by and miss. Next time you're looking for a quick patio beer, a place to grab dinner, or a place to spend a night out, head down to Bottlescrew Bill's!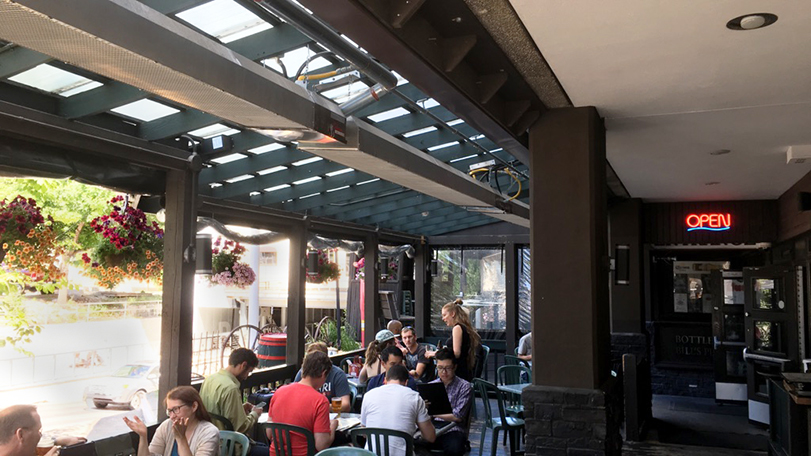 La Vita e Bella – Located in a historic building in Victoria Park, along 12th Avenue and 3rd Street SE, La Vita e Bella is a hidden gem of Italian dining. With a rustic, yet chic environment, this welcoming restaurant offers authentic Italian cuisine, cocktails and wine. Where better to enjoy this upscale menu, than on their secluded patio?
National on 10th – On 10th Avenue is a restaurant, beerhall and entertainment venue with games, craft beers and North American inspired tastes. National on 10th has multiple spaces, all unique from one another – such as the beer hall, the bourbon room and the bowling alley. National has everything you need for a great night out with family and friends. Hidden on the roof top, is a sunny patio that often has a DJ bumping music. You won't want to miss your chance of getting a spot up there, as they go quick.
Native Tongues Taqueria – With a focus on exploring Mexico's cultural diversity and delivering an authentic experience through food, drink and hospitality, Native Tongues strives to be the country's best Mexican restaurant. Although this new patio currently consists of only four tables, who wouldn't want to enjoy their tacos and margaritas outdoors? It is definitely worth getting there a little bit early to ensure you get one of the outdoor tables. Native Tongues is on 12th Avenue SW, just a few steps away from Central Memorial Park.
Provision – Situated in the middle of Central Memorial Park, Provision is a little cabin in the heart of Calgary. Vegetable forward cuisine, Alberta protein and family-style dining is brought to a whole new level here. Serving lunch and dinner throughout the week, and brunch on weekends, Provision creates exquisite meals all day long.  There is no better place than the Provision patio in the park to crack open a bottle of wine with friends and family.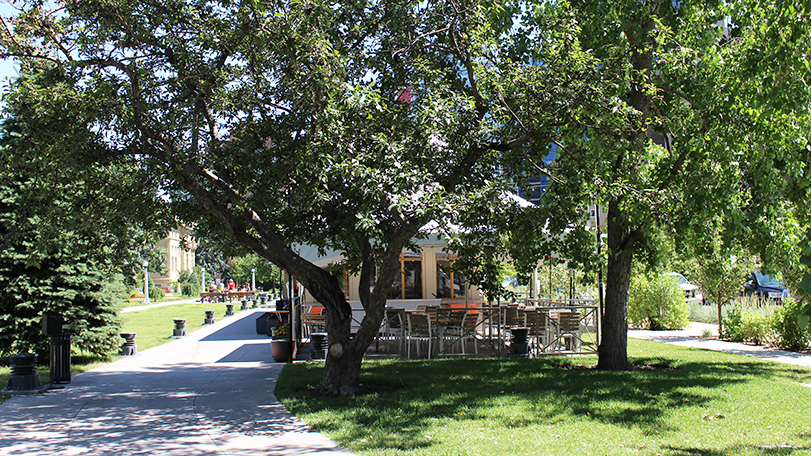 The Still –  A casual, contemporary and comfortable gourmet dining and lounge experience. The Still specializes in fine sprits and edibles, and with its close proximity to the Stampede grounds, it is the perfect place for food and drinks, pre or post-event. Come try one of their deliciously crafted cocktails on their patio. On Friday nights, The Still features a DJ so you can dance the night away.
St. James Corner –  An authentic Irish pub, St. James Corner is based on the original Guinness Factory, otherwise known as St. James Gate. With stained glass taken directly from pubs in Ireland, and an experienced bar staff with the skills and knowledge to pour the perfect beer, St. James Corner is an excellent spot for any person who wishes to feel as though they are over seas. Their sidewalk patio serves up cold beers, wonderful food and great times.
Village Ice Cream –  Locally crafted right here in Calgary, this ice cream is some of the best you'll ever taste. A local favourite, with 10 specialty flavours that are always available: Strawberry, Salted Caramel, Guide's Mint, Phil & Sebastian Coffee, Toasted Coconut, Melted Chocolate, Village Vanilla, Two Hills Earl Grey, Maple Pecan and Cardamom. It is without debate, that the best place to enjoy any ice cream is sitting in the sunshine. So, come down to the Village Ice Cream patio, on 10th Avenue to try out their famous flavours – you won't regret it.