Merry Jane Cannabis: One- Year Anniversary
July 22, 2020, Posted by
Sydney
Saturday, July 25th will mark the 1st anniversary of Merry Jane Cannabis in Vic Park. To celebrate they will be having a prize wheel from 11 am until 6 pm, which will include prizes from Merry Jane Cannabis and other local businesses such as Doggo, Vine Arts, Home & Away, and St. James. 
The story behind the opening of Merry Jane Cannabis is an intricate and exciting journey. At the time that cannabis became legal, owners Derek and Tom began searching for a location to open their shop. During that time, property management companies were known to be exclusively working with already established larger organizations which left Tom to find a location by his lonesome and at a bit of a disadvantage.  
"I literally walked the streets, knocked on doors in trendy locations trying to find a space. Victoria Park was my preferred location and I got lucky. One Saturday afternoon I was driving along 1 street SW and there was a parking spot in front of the I.O.D.E. Consignment Store and they had 50% off signs in the window. The store had been there for over 40 years (the same three women had worked there since it opened). I went in and the ladies told me the space would be coming available. They gave me the landlords name and we came to an agreement. This building has been in his family for close to 100 years."- Says Tom Waller, co-owner of Merry Jane Cannabis.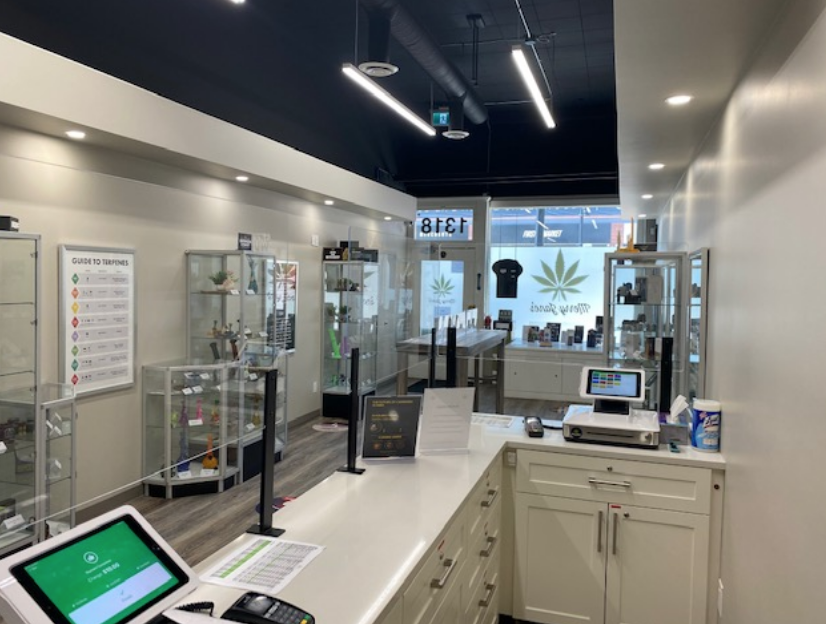 The City of Calgary encouraged the public to submit their business applications online. The night before the applications were due, Tom went down to city hall with his lawn chair and cold weather clothing to get in line just in case in the unlikely situation something went wrong with the online application. It was lucky he sat outside all night and was first in line, because when his wife and business partner went to submit the application at 8 am the next morning, they had no luck.  
Merry Jane Cannabis places a large focus on the community and owner Tom, describes his shop in three simple words, "a fun place!" A typical day at the shop looks like visiting with the regulars, and often their pets (they always have dog treats on hand), as some customers will just drop the leash when they enter and the dogs walk behind the counter to the treat drawer. 
The shops commitment and desire to be embedded in the Victoria Park Community is apparent, especially right now. Throughout COVID-19, the store has continued to stay open and at one point it was just Tom and Derek working with reduced hours. Currently, Merry Jane Cannabis is working with five other local businesses to cross market and promote each other. This is a great example of neighbours helping neighbours and supporting local. 
Make sure to get out and support Merry Jane Cannabis and celebrate their first year in Vic Park on Saturday!